Crystalusion Plus Active Anti-Bacterial Screen Protection Solution
In Stock
Provides anti-bacterial / anti-microbial protection with a winning shine
100% invisible
Easy application
Description

Don't take risks with your health – why you need this!
Crystalusion Plus is a new improved advanced active liquid glass anti-pathogen protective coating. Leading microbiologists across the globe have tested the bacteria count on mobile devices and have concluded that mobile phones are highly contaminated devices where various types of bacteria continue to survive and multiply with high resistances to commonly used antibiotics. This suggests that a mobile phone is a perfect carrier, which can result in community-acquired infections being spread with possible public health implications. Crystalusion Plus, the solution to this problem, has been certified as a class IIa medical device as per the European Directive and used in hospitals to protect patients and healthcare workers. It leaves an anti-pathogen nano-coating protecting the user and others from potentially harmful diseases.
This product has been clinically proven by leading Microbiology and hygiene institutes around the world.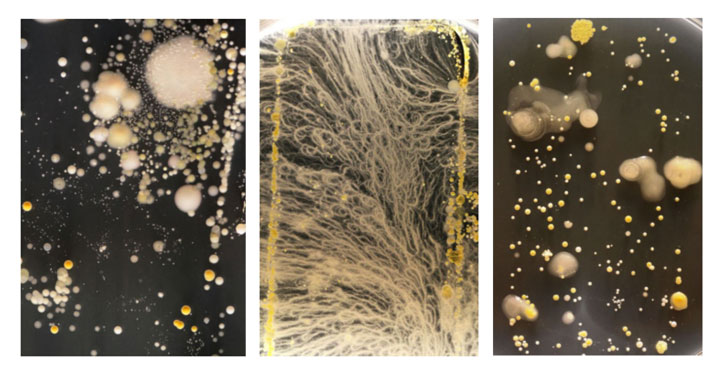 Above: Believe it or not, this is an image of actual bacteria collected from a phone screen.
Apply to virtually any device
Crystalusion Plus is a revolution in screen protection, offering an easy solution to protect and easily maintain media devices – including smartphones, tablets, mp3 players, laptops and sat nav (satellite navigation) systems.
Crystalusion Plus Active Anti-Bacterial Protection includes award-winning anti-bacterial nanotechnology which is so good it has been registered as a class IIa medical device! Even the medical professionals trust it so you can too! If you think this is a gimmick to sell you something, consider this fact: The average toilet seat contains 1200 germs per square inch. The average smartphone screen will contain 25,000 germs per square inch! The simple truth is that, no matter how clean you think you are, your phone or tablet is one of the dirtiest surfaces you will come into contact with. In the case of phones, you even put them to your face. Don't panic though – just get Crystalusion Plus!
Provides active protection against bacteria, fungi and viruses
Crystalusion Plus™ forms a protective nanolayer of active protection against bacteria, fungi and viruses. It creates an environment where these potentially harmful (even lethal) organisms cannot survive. Not only does it kill them on contact, but it will provide a surgically clean surface for up to 10 days. We strongly recommend you reapply after 10 days to keep your screens safe and germ-free.
Let's look at the benefits in more detail: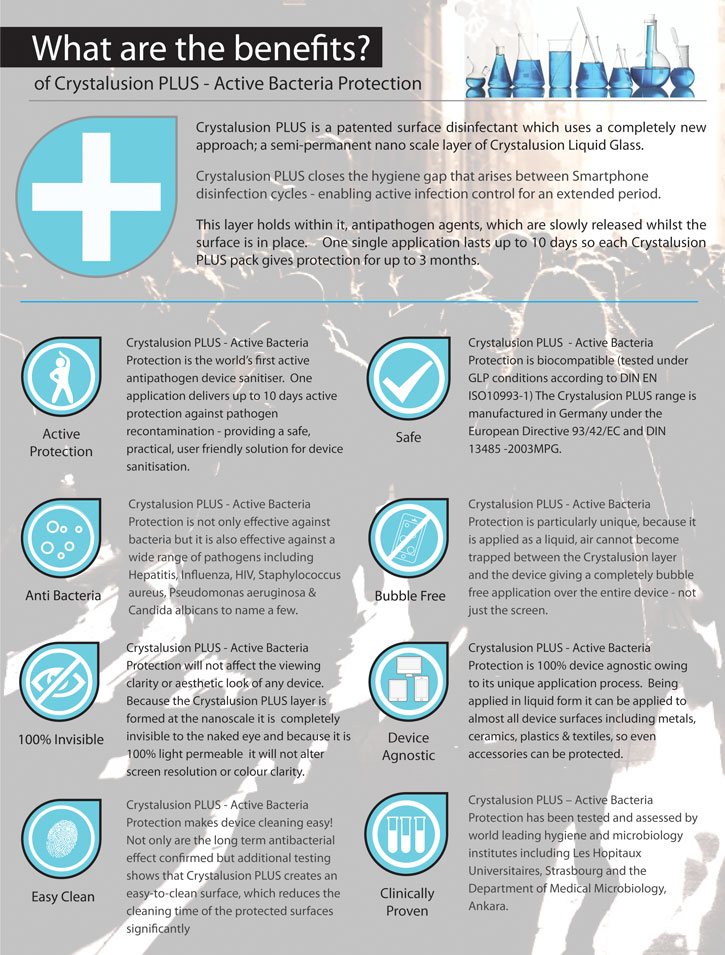 Provides anti-bacterial / anti-microbial protection with a winning shine
Crystalusion Plus is anti-bacterial / anti-microbial, which means it does not support the development of bacteria.  When bacteria come in contact with a treated surface, it is not able to divide through ionic exchange and therefore dies. Not only that, and as a happy coincidence, it provides a surface that is easier to clean than usual, meaning you will only need the minimum of time and effort to get a shine that is clinically and visibly clean.
It's also 100% invisible so you'll never know it's there, even though you'll be very glad it is!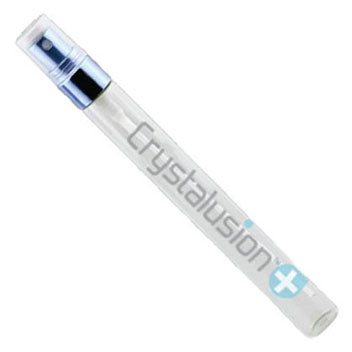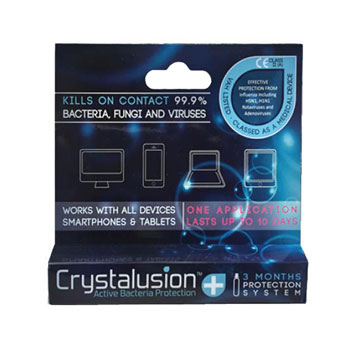 Easy to apply
You can protect your product by following three simple steps…
Step 1: Moisten the included microfibre cloth with Crystalusion using the spray bottle. Make sure you spray onto the cloth and not the screen or surface directly.
Step 2: Apply the solution via the microfibre cloth to the entire device or object.
Step 3: Allow the solution to cure for 10 minutes before gently buffing the surface again with the cloth. You're done! You now have a barrier against pathogens and a seriously good shine!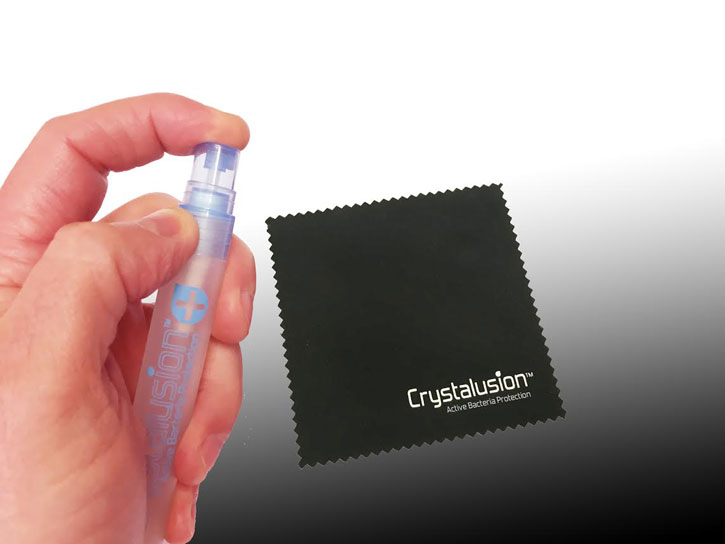 What's in the box?
1x 10ml bottle of Crystalusion Plus
Microfibre cloth
Key Details
| | |
| --- | --- |
| Part No | CRYSP-EHPC |
| UPC | 5030578496269 |
| Mobile Fun ID | 54027 |
| Colour | Clear |
| Brand Name | Crystalusion |