KitSound MyFM2 Wireless FM Transmitter & Hands-Free Car Kit
In Stock
Send music and calls through your car speakers
No installation required FM transmitter
Hands-free calling via Bluetooth
Description
Send music and calls through your car speakers
Fed up of only having a single CD in your car? Wish you could have a larger selection of tracks at your fingertips that could be played through your in-car stereo system?
Introducing the KitSound MyFM2. This is an FM transmitter that transforms your smartphone or tablet into an FM Transmitter, so you can enjoy a wide range of music heard through your car's much louder and clearer speakers.
Listen to your music, podcasts or audiobooks in style using the KitSound MyFM2.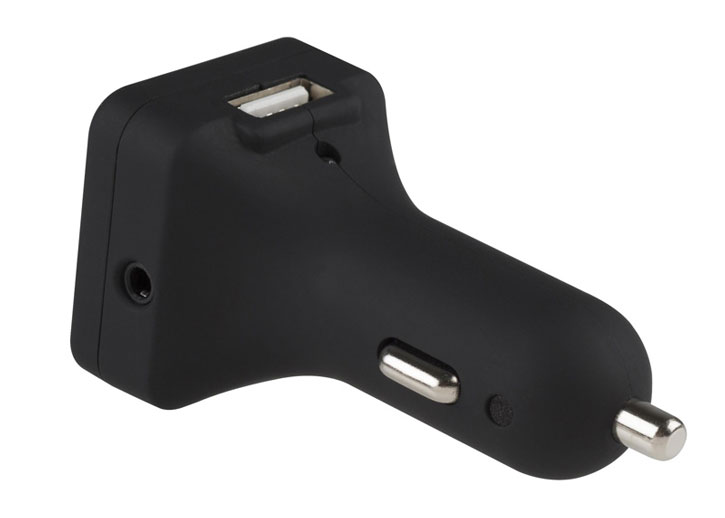 No installation required FM transmitter
No wires, no installation and no mess!
Your smartphone or tablet speakers are very small and although have become more impressive over the years, they could never compete with the size and quality of an in-car stereo speaker system.
The KitSound MyFM2 sends audio through to your car speakers using your FM radio. Simply tune your car radio to a clear FM frequency and then select the same exact frequency on the MyFM2.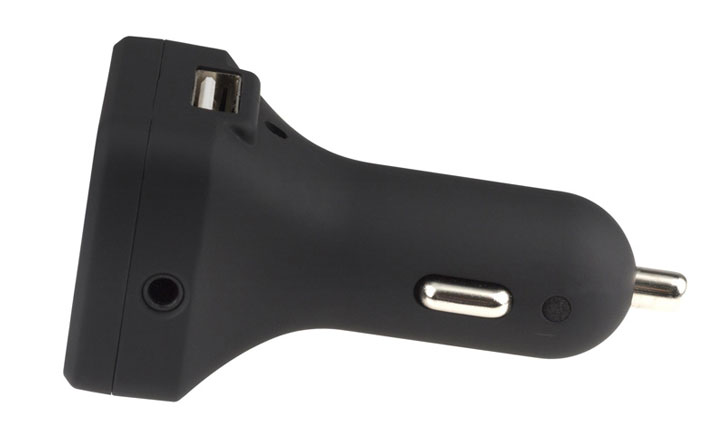 Hands-free calling via Bluetooth
With the built-in microphone and Bluetooth capabilities, the KitSound MyFM2 allows you to make and receive phone calls – providing a hands-free solution for your conversations when in the car for your safety and convenience. Don't risk losing control of the steering wheel or breaking the law by holding a phone up to your ear, instead using the MyFM2 to make and receive calls – all through your car's stereo system.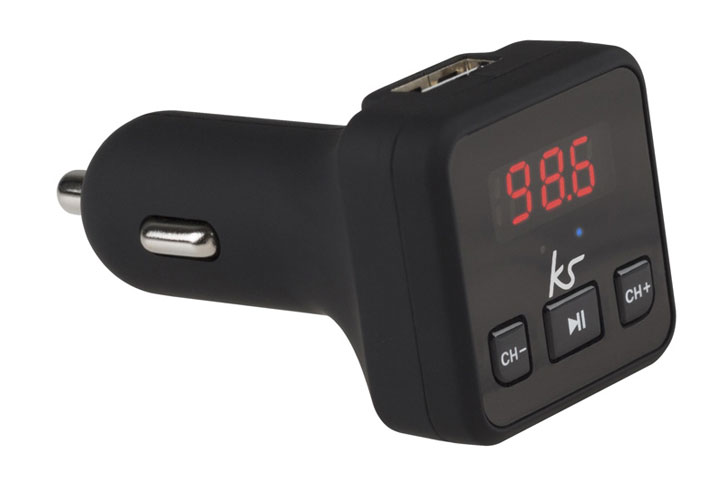 Integrated LCD display and playback controls
The crystal-clear built-in LCD display on the KitSound MyFM2 Transmitter simplifies the setup process, allowing you to easily and clearly see what frequency you're tuned into. What's more, the MyFM2 FM transmitter features built-in controls which not only control your tracks, but your calls too.
Charge your device while you drive
Using your existing USB charging cables, you can plug your USB charging compatible device into the MyFM2 FM Transmitter for extra juice. Never be without power, so you can make that important phone call or for power intensive location apps including using your phone as a sat nav.
With 2A power output, your phones will charge quickly. This port is even powerful enough to charge tablets.
3.5mm line-in port for audio input from smartphones and tablets
An absolutely enormous amount of devices support the use of headphones and it is this same 3.5mm port that you can use to plug into the Promate carMate-6 Car Kit. Use your smartphone, tablet, sat nav or other music playback device to send music to the carMate-6, which will then be sent to your car's stereo system.
Compatible with all popular music services including Spotify and YouTube
With music streaming services becoming more and more popular, you are able to play your music through the Promate carMate-6 Car Kit even when using Spotify, YouTube, Pandora, Deezer and other audio services.
Specifications
Bluetooth: V3.0
Wireless connectivity range: Up to 10 m
FM frequency response: 87.5-107.9 MHz
USB output: 5 V/2.0 A
Product dimensions: H 36 x W 36 x D 73 mm
Product weight: 30 g
Aux output: 3.5 mm
Key Details
| | |
| --- | --- |
| Part No | KSMYFM2 |
| UPC | 5030578997667 |
| Mobile Fun ID | 65250 |
| Colour | Black |
| Brand Name | KitSound |